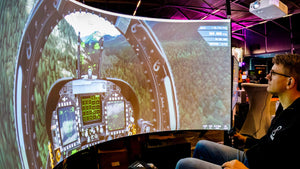 ~the fact of becoming utterly involved in something
Ultimmersion is a combination of the words Ultimate Immersion.
That is exactly what we achieve with our 180-degree projection screens. Our curved projection screens (patent pending) add a wow-factor and even more realism to simulation games such as sim racing and flight simulation.
Immersive Simulation
Experience simulation as you've never done before and step (really) into your favorite game with our curved projection screens.
Whether you're a sim racer, driving a virtual truck, or a flight simulation pilot, our ultimmersive projections screens will offer you the ultimate immersive visual gameplay experience.
Size Matters
A monitor, a multi-television setup, or an ultimmersive bezelless projection screen?

One of the critical factors in creating an immersive simulation experience are visuals. And size does matter for your experience. Our curved projection screens have a bigger surface compared to a setup with three televisions (of equivalent size) and let you experience simulation games as you've never seen before.
Easy to Setup
Ultimmersive curved projection screens fit in almost every house, as they are compact and lightweight. Our smallest screen fits in virtually every room as it has a diameter of just two meters (6.56 ft). It's also
easy to set up on any (upper)floor due to its weight, which is way less than most sim-rigs.

Building your screen can be done within an hour and without any technical knowledge, thanks to the ingenious design.

★★★★★

I'm using VR for racing, but racing on a 180 degree screen is actually more immersive than VR.
★★★★★

I know where I spend my next paycheck on...
Awesome!
★★★★★

Feels like you are actually racing.
Just Wow!
★★★★★

I've never seen this solution before.
Crazy (immersive) experience.
Frequently Asked Questions
Simulation Games (race-, drive-, or flight- simulators) are awesome to play on our Ultimmersion//180.
We've tested several sim-games during development of the screen, and allmost all games work (either because they have multi-view support, or via an expanded desktop application as AMD Eyefinity or nVidia Surround).
The 180-degree screen can be used for other applications or movies as well, but without the immersive feeling as you would have with Simulation Games.
The projection screens are available in three sizes (width): 2.0m, 2.5m and 3.0m.
The space required for the projectionscreen is (width x length) screenwidth + 0.5m x screenwidth. All screens require a room height of at least 2.2m (~ 7.22 ft)
Example:
For a Ultimmersion//180 2.0m you would need a room size of at least 2.5m x 2.0m x 2.2m.
Please note that this does not include your simulator hardware.
For image-correction and edge blending we recommend to use Immersive Display Pro (sold seperately).
This software is only available for Windows PC.
If your videocard is able to run your game in 'medium high' (or peferably better) settings, it can be used for a 180-degree projection. In addition it also needs to have two (or more) digital video signal outputs (HDMI/Display Port) and support for AMD Eyefinity or Nvidia Surround.
Most videocards manufactured in the last five years have these features on hand.
Software is needed to blend the projector images together, and correct these images for the curve of the screen.
We recommend using Immersive Dislay Pro for this.
The Ultimmersion//180 includes a projector mount, which can be used with Short Throw (or Short Distance) Projectors.
We've developed the Ultimmersion//180 using the Optoma HD29HST, which has a projection distance of 0.4-3.4m and a throw ration of 0.49:1.
We've developed the Ultimmersion//180 using Immersive Display Pro.
Our Kickstarter launches at September, 1st 2023.
The first wave of shipping will be beginning of December 2023 (in order of backing).
Kickstarter is the most famous crowdfunding platform where creators (like us) can pitch a project and receive funding from a community of backers.
Backing a product (or in non-Kickstarter language; pre-ordering a product), allows you to fund initial costs for a product, so it is able to go in production.
The Ultimmersion//180 is going live on Kickstarter on September, 1 2023.
Until then you can subscribe to our newsletter, so we can notifiy you when our campaign goes live. Take advantage of the limited-time price by ordering early in the first 72 hours of the campaign.
Partners we Work with